Nif's Avocado and Egg Breakfast Wrap
ImPat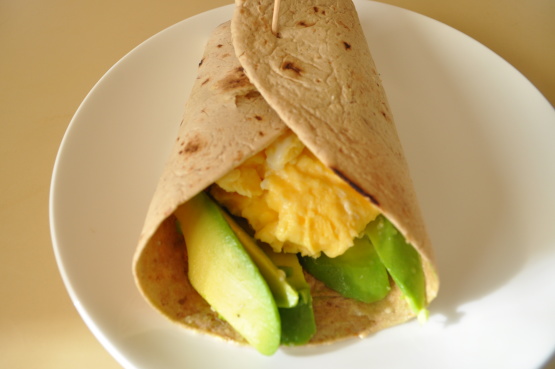 The richness of the avocado makes this dish absolutely delicious. This is the healthy kind of recipe that I like to throw together in the morning when I'm getting ready for work. Buy egg whites in the carton to make it easier and less expensive. It's great for on-the-go as well. Enjoy!
Spray nonstick frying pan and heat over low-medium heat. Meanwhile, mix eggs, milk and baking powder in a bowl and beat very well. Pour into frying pan and stir occasionally until just barely cooked. Salt and pepper to taste.
Scoop half the eggs on each burrito. Top with avocado. Fold a couple of inches of bottom of burrito up and then roll.