Nif's 30 Minute Tuna Casserole
Boomette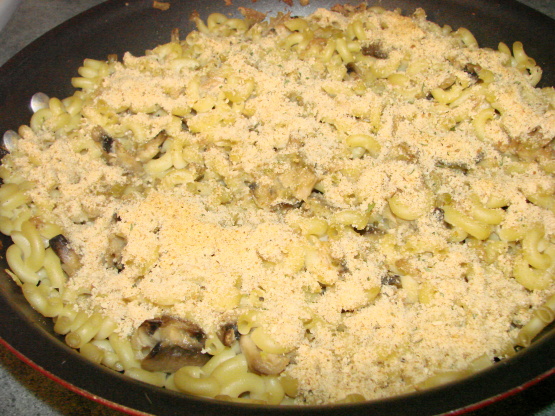 A follow-up to Nif's Nothing Fancy Tuna Casserole, this recipe is healthier and has more fresh ingredients. You could realistically have this meal on the table in a half hour as you are doing a lot of the prep while waiting for the pasta. This counts as 7 WW points. Enjoy!

I really liked this! I normally don't care for Tuna casseroles, because they all seem to taste alike because of the "cream of" soup in it. I also used whole wheat pasta, which I could eat in this recipe, and used plain bread crumbs mixed with some lemon pepper for the topping. I agree with MsSally, may up the sour cream a wee bit. It's not a heavy meal and it's quick to fix!!
Cook pasta as directed. Preheat oven to 400°F.
While waiting for the water to boil, add mushrooms, onion, celery and garlic to a nonstick pan sprayed with olive oil. Saute over medium heat until just tender. The moisture from the veggies will keep them from sticking.
While cooking the pasta, stir tuna, sour cream, Worcestershire sauce, salt and pepper into the pan. Remove from heat and add cheddar cheese.
When pasta is al dente, stir into pan. Pour into a casserole dish sprayed with olive oil. Cover with bread crumbs.
Cook for 15 minutes. The higher heat will ensure that you have some crunch to the bread crumbs.