Nielsen Massey's Chocolate Chip Cookies
sprue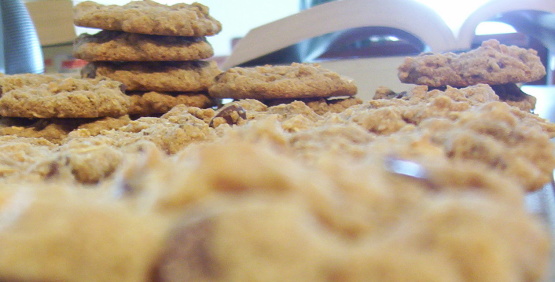 This recipe comes from the vanilla company, Nielsen Massey. It's definitely one of my most requested chocolate chip cookie recipes. My friend Val made up a variation using chunks of Oreos along with or instead of the chocolate chips -- makes for a very interesting cookie!

Top Review by sprue
well these cookies were fantastic! i go my hands on some nielson massey's vanilla and had to try it. although i did make a few adjustments and that is why only 4 stars b/c w/out the adjustments i think they would have been way too sweet and salty. .. i cut the salt in half! and the sugar down by 1 cup and they were still a bit too sweet! i also cut the buter in half! i threw in a few oats and walnuts wich gave them a great texture, but wasnt neccesary. the dough is very thick but the cookies turn out great! i'll keep this recipe on hand for sure!. thanks
Heat oven to 350 degrees. Mix butter, sugars, vanilla and eggs in large bowl.
Stir in flour, soda, salt, baking powder and cream of tartar.
Stir in chocolate chips. Drop with a #40 scoop (looks like a metal mini ice cream scoop) or a rounded measuring tablespoonful about 2 inches apart onto an ungreased insulated baking sheet. Bake 12 to 15 minutes or until light brown.
Cool slightly: remove from baking sheet. Cool on wire rack.