Nicky-L-G's Crispy Chicken
BarbryT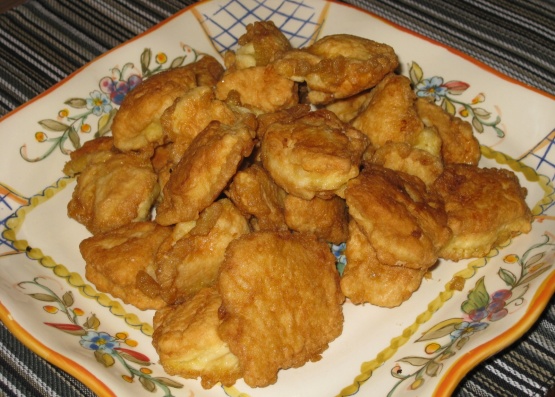 My family love chicken this way - it's kinda like a chicken snitzel, just minus the breadcrumbs. You could jazz it up by adding your favourite spice to the flour. It would aslo be good with fish or pork instead of the chicken, and a dipping sauce might even be a nice idea (my DH is 'a man of simple needs', so we have it just plain)

Oh yum. I REALLY wish we had a one to ten reviewing scale (yes, I am/was certified to teach :-)). Given our current scale, though, this is certainly a 4 and a bit. The flavor is lovely, but I do expect more crisp to "crispy chicken." Mine wasn't crispy. But it was delicious.
Coat the chicken chunks in the flour.
Dip in the beaten egg.
Fry in hot oil in an electric frypan than has a lining of baking paper (helps cook it evenly and reduces the washing up!) until golden.