Nickey's Strawberry-Applesauce Jell-O Ring
marisk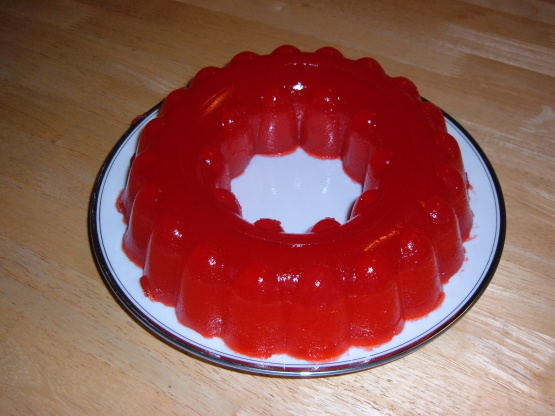 This is my favorite way to make jell-o for office parties and when entertaining. Because you have to wait between layers for the jell-o to set, I usually start it a day or two before I need it ... I do one layer before going to bed (or before leaving for work) then the second layer when I get up or whenever I have time like after work the next day. I usually have a little extra mix left over from layer two. I just put it in a small container and enjoy it for a snack. You will need a jell-o ring mold to make this as written but you can use anything you want to like little custard cups, etc. Water comes to a very fast boil so it takes almost no time at all except for the refrigeration time. The time posted does not include setting time. Your number of servings will depend on how big you cut your slices.
Coat jell-o ring mold with a light coating of vegetable oil.
LAYER1:.
Bring 1 cup water to boil. Turn off heat.
Add 3 ounce package jell-o and ½ package Knox gelatin. Stir until dissolved.
Add 3/4 cup ice cold water.
Pour into jell-o ring mold.
Refrigerate until completely set.
LAYER2:.
Bring 2 cups water to boil.
Remove from heat.
Add 6 ounce package jell-o. Stir until dissolved.
Add applesauce; stir to mix inches.
MAKE SURE LAYER 1 IS COMPLETELY SET BEFORE ADDING LAYER 2.
Pour layer 2 into mold on top of layer 1.
Refrigerate until set.
Option: Hold back a little of layer 1 to place on layer 2 (after it sets) for three layers.