Nickey's Peanut Butter-Raisin Cookies
marisk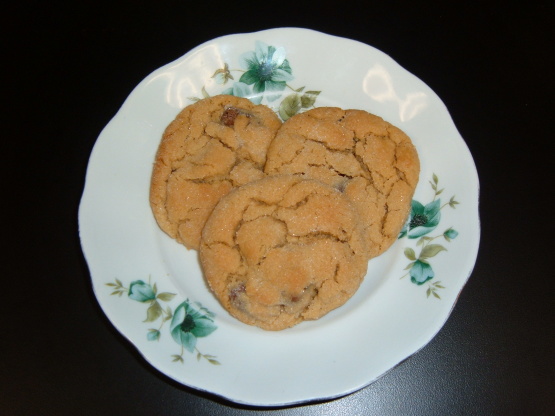 Here's another of our favorites. I usually put about a half cup more peanut butter but then … who's measuring. If you like your cookies really sweet, just increase the brown sugar to 1 cup firmly packed. You may also use semi-sweet chocolate chips instead of the chocolate-coated raisins. The amount of cookies will depend on the size of the balls you make. When baking, the cookies will spread out a little … not too much. It doesn't matter what kind of peanut butter you use – I personally prefer the creamy but the chunky should be just fine. These cookies turn out on the softer side (not crispy)…a little chewy.
Preheat oven to 350°.
Sift the dry ingredients together and set aside.
In a large bowl, cream butter and shortening together.
Add peanut butter.
Add sugars.
Add the eggs and vanilla.
Add dry ingredients.
Add the chocolate coated raisins.
Roll into 1 inch balls.
Lightly roll each ball in sugar; then place on cookie sheet.
Bake at 350° for about 12 minutes or until lightly browned. Wait a few minutes before moving to cookie racks to cool.