Nicaraguan-Style Steak / Churrasco
IngridH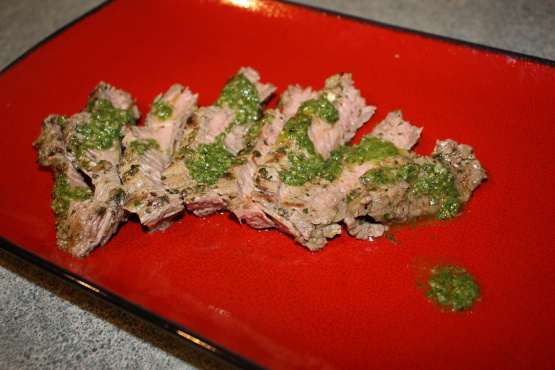 Another recipe by Steven Raichlen. This is the intro he writes about this recipe: The word churrasco is used throughout Latin America to describe beef cooked on the grill, although the precise meaning varies from country to country. In Brazil, for example, churrasco is the generic term for barbecue. In Nicaragua it refers to a broad, thin steak cut from a beef tenderloin. Most steaks are cut across the muscle grain, but Nicaragua's churrasco is cut along the grain. What results is a flat, thin piece of meat with a remarkable texture, a steak that's tender enough to cut with a fork. (And the steak's broad surface area readily picks up the smoke flavor from the coals.) Nicaraguan churrasco is always served with a trio of sauces: chimichurri (here used as a marinade as well), salsa marinara (Nicaraguan Tomato Sauce), and a spicy pickled onion sauce called cebollita. Other accompaniments might include fried plantains (Grilled Plantains, a tasty substitute, appears in this book) and Bahamian Peas and Rice.

Great tasting steak! I used a flat-iron steak which is very lean and this marinade/sauce really complimented it well. The sauce is easy to put together and really adds so much flavor to the meat. We grilled the steak on our indoor grill (outdoors) so it took no time at all to make. Will definitely make this steak dish again! Made for PRMR - March, 2013.
Place the piece of tenderloin lengthwise on the cutting board. Holding the knife parallel to the cutting board, cut the meat into 4 flat, even horizontal strips. Place each strip between two sheets of plastic wrap and pound with the side of a cleaver or with a rolling pin to a thickness of 1/4 inch. Arrange the steaks in a nonreactive baking dish.
Prepare the chimichurri. Combine the parsley and garlic in a food processor and process until finely chopped. Add the oil, 1/4 cup vinegar, water, 1 1/2 teaspoons salt, and 1 teaspoon pepper and process to make a thick sauce. Correct the seasoning, adding salt, pepper, or vinegar as necessary; the mixture should be highly seasoned. Place half the chimicurri in a bowl or crock for serving; pour the remainder over the meat. Cover and let marinate in the refrigerator, 30 minutes, turning several times.
Preheat the grill to high.
When ready to cook, oil the grill grate. Drain the beef and place it on the hot grate. Grill, turning with tongs, until cooked to taste, 1 to 2 minutes per side for medium- rare. Serve with the remaining chimichurri sauce.