Hey Jude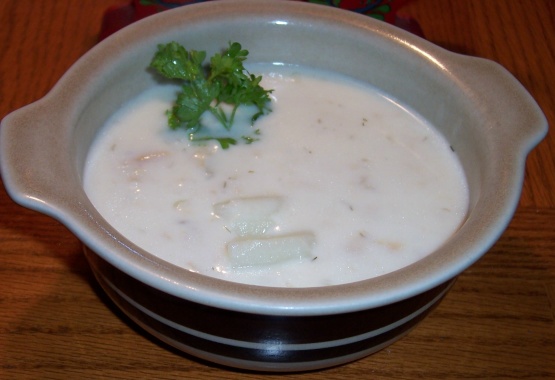 This chowder is outstanding. The best I have ever made or eaten. It won the chowder cook off a few years ago.

This is great clam chowder, I've finally found a good recipe for this soup! My husband ate 3 bowls of it and he and I both liked the abundance of clams over potatoes. I used 4 small cans of chopped sea clams, along with their juice, and found that I only needed to add 2 bottles of the clam juice as we like our chowder on the thicker side. Thanks for posting this Barb, this is now our clam chowder recipe!
Melt butter in a large kettle or stock pot over medium heat, add onions and cook until clear; stir in flour and cook over low heat, stirring frequently, for 2 to 4 minutes; set aside to cool.
Cook peeled and chopped potatoes until tender; drain and set aside.
If using shucked clams, in a separate pot, bring clams and clam juice to a boil; reduce heat and simmer for 15 minutes; OTHERWISE add clam juice and clams to butter,onion and flour mixture.
Bring to a simmer while stirring constantly, continue stirring and slowly bring to a boil; reduce heat, add cooked potatoes.
Mix in half and half, salt and pepper and chopped or dried dill, heat through but do-not boil, enjoy.