Newman's Own Sesame Ginger Shrimp Salad
Kay D.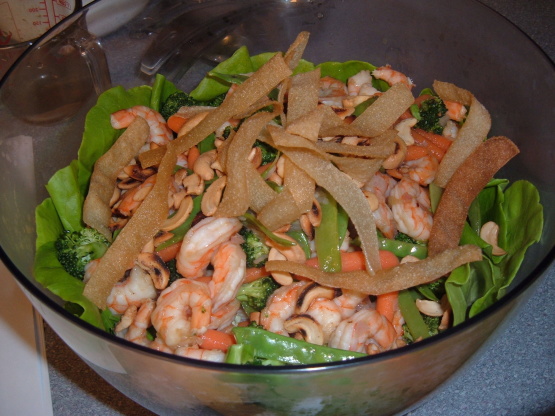 From newmansown.com. I was amazed at the amount of flavor in the recipe. That little bottle of salad dressing really packs a punch. The original instructions didn't say anything about adding some oil to the pan before stir-frying your shrimp, but I stir-fried the shrimp in the same large pan I used to fry the wonton wrappers (after dumping out the oil).
6 -8

large shrimp, peeled and deveined

1

cup newman's own lighten up sesame ginger salad dressing

1

head bibb lettuce, cored and chopped, keep outer leaves whole

1

cup napa cabbage, thinly sliced

1

tablespoon shallot, chopped
1⁄4 cup carrot, julienned
1⁄4 cup snow peas, julienned
1⁄2 cup broccoli floret, blanched

1

tablespoon red pepper, diced

1

tablespoon scallion, chopped

1

tablespoon toasted cashews, chopped
1⁄2 cup fried wonton wrapper
Place shrimp in 1/2 cup of the salad dressing for 20 minutes to marinate.
From the top, remove the core of the Bibb lettuce; reserve outer leaves.
Arrange whole lettuce leaves around salad bowl.
Julienne and mix the Bibb lettuce core with the Napa cabbage.
Place saute pan on medium high heat.
Remove shrimp from marinade and add shrimp to hot pan.
When shrimp have started to become translucent (2-3 minutes), add shallots, carrots, snow peas, broccoli and red pepper.
Stir-fry shrimp and vegetable mixture for about one minute until vegetables begin to sweat.
Add remaining 2 ounces of salad dressing and remove from heat.
Place vegetable and shrimp mixture into lettuce bowl and top with chopped scallions, cashews and fried wonton noodles.