Newborn Ginger Babies II (Orange Cream Frosting)
2Bleu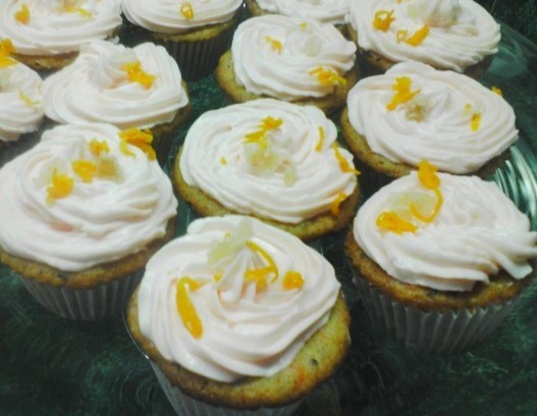 Serve at a party or give as gifts anytime someone you know is expecting a child. It is a toast (or token) to the unborn infant that welcomes them to the friends and family they are soon to be a part of, and wishes them good health in their journey here and in their life to come. Ginger has been used for many years in folk medicine, and recent studies have confirmed that ginger directly affects the gastrointestinal tract, helping to improve muscle tone and to prevent abnormally rapid and strong intestinal contractions (which is great for expectant mothers). The frosting yields 1 cup and takes 5 minutes prep time. For the first version of these little treats, try Newborn Ginger Babies I (Espresso)

Updated. I knew somethng wasn't right, so i made them again, and this time they were fine. My baking powder was old and oven was off a little. Yes im blushing, it wasn ot a good day of cooking.In fact it was after i made another chicken dish and saw it wasn red after the first outside bites that i redid these. these did taste wonderful and i loved the 1/2 cup of gingerroot. Used applesauce, and part splenda to lower the cals. Still a very moist texture but i like moistness.
ORANGE CREAM FROSTING: Beat softened cream cheese and orange liqueur at medium speed with an electric mixer until blended. Gradually add powdered sugar, beating until light and fluffy. Refridgerate until needed.
CUPCAKES: Preheat oven to 350F and lightly grease (or place liners into) miniature muffin tins. Set aside. Beat sugar and vegetable oil at medium speed with an electric mixer 3 minutes or until smooth. Add egg, beating well after each addition. Beat in grated carrots and fresh ginger.
Combine all-purpose flour and next 6 ingredients; gradually add to egg mixture, beating at low speed until moistened. Stir in chopped pecans.
Pour batter into muffin tins, filling two- thirds full and bake for 12-15 minutes or until a wooden toothpick inserted in center comes out clean.
Cool in pan on a wire rack 5 minutes. Remove from pan, and cool completely on wire racks. Spread tops evenly with Orange-Cream Cheese Frosting then decorate with carrots and ginger.
GARNISH: Place a small piece of crystalized ginger onto each cake. Peel a thin layer of rind from 1/2 orange (or carrot), and cut into thin strips using a knife.