New Zealand Lolly Log Cake
Cabnolen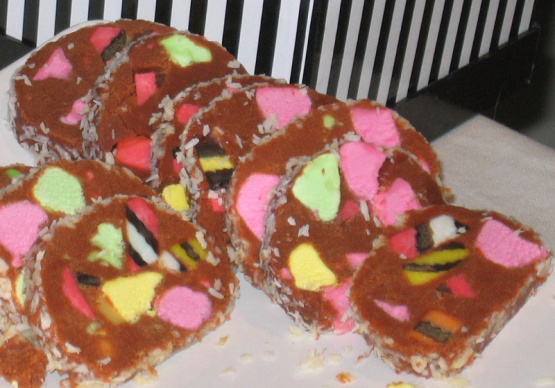 This is an old receipe of my mother's from New Zealand. It can be eaten with a coffee, or taken to someone's home as a gift. Absolutely for the sweet tooth!

Hey everyone. Im a young man from New Zealand and have been brought up on Lolly Cake. My advice is try it. Its so nice and so simple to make. Peace be with you all.
125

g butter

180

g fruit puffs (not quite a 'gummy' candy - made in different colors and flavors)
1⁄2 cup sweetened condensed milk

250

g biscuits, crushed
Melt butter, stir in condensed milk, cool.
Stir in Fruit Puffs (cut into four) and crushed biscuits.
Shape into log and cover with coconut.
Refrigerate.