Deantini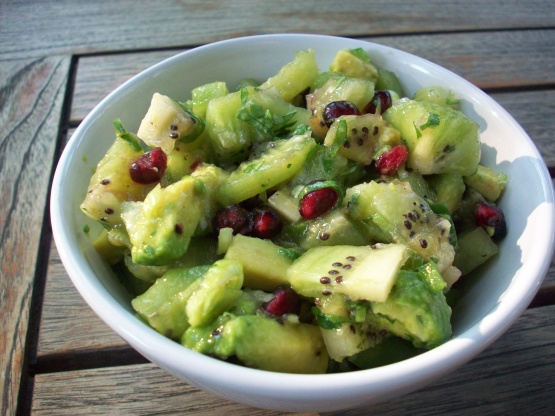 this is just perfect. Pomegranates, kiwi and some chilis in a quick preparation

Great flavour combination! I've made this many times and prefer using ripe, soft avocados as they blend in well to make a kind of creamy dressing.

I change the proportions to make a big batch - 3 avocados, 8 kiwis, seeds from 1 whole pomegranate, 1 whole jalapeno, 6 green onions, olive oil. I add the juice from 1 whole lemon, which really brightens up the flavour and makes the avocados creamier. I omit the cilantro.

This dip is a HUGE hit every time I serve it at a party!!
Place the kiwifruit, pomegranate seeds, avocado, green onion and olive oil in a medium sized bowl.
Starting with just a teaspoon of chopped jalapeño, gently fold in and add more to your desired level of heat. Add cilantro. Add salt and pepper to taste.
Makes about 1 1/2 cups.