New Zealand Brown Rice Salad
Annacia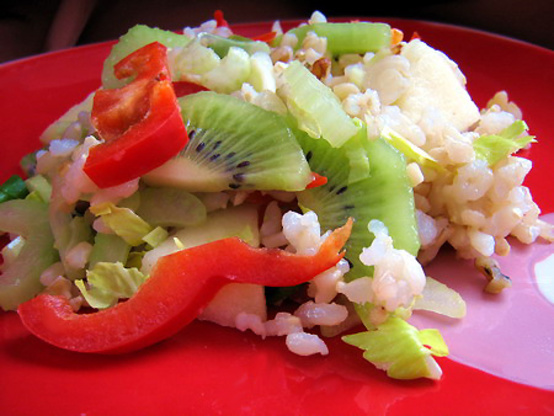 A delicious salad I found while searching for regional cuisine.

What a great, refreshing salad! I left out the walnuts (allergies), and used Newman's Own balsamic dressing, and it was still fantastic. Tripled the recipe, except for dressing. Made the night before, and refrigerated. Every once in a while I turned the container upside down so the dressing would distribute. Took to a cook-out and it was the first dish to be completely empty. Congrats on a great recipe!!
Cook rice in water according to package directions. Drain and cool.
Peel kiwifruit and cut into 1/4" thick slices. Cut slices in half to form semi circles.
Core and dice apple into 1/2" cubes.
Toss together rice, kiwifruit, apple, celery, red pepper strips, walnuts, green onions and parsley in salad bowl.
Mix together vinegar and oil. Drizzle over salad.
Toss to mix well.
Cover and refrigerate 1-2 hours, to allow flavors to blend, before serving.
Makes 6 servings.