New Zealand Apple Dessert Club Sandwiches
twissis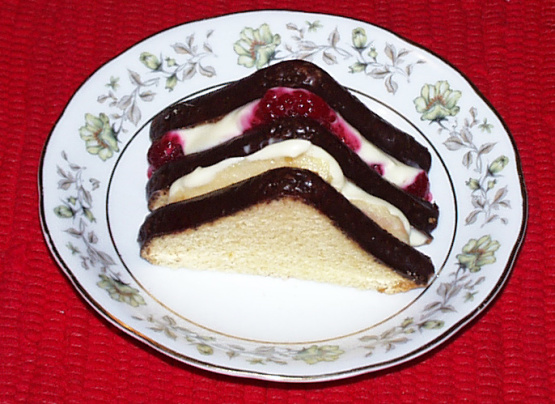 This is posted for the World Tour 2005 RecipeZaar event. I haven't made these yet, but have tasted them. Very unique, easy and delicious. The source is my HEB grocery store - they made samples to promote the New Zealand apples. I doubt it's originally from New Zealand, but is a more contemporary idea for New Zealand ingredients. This makes a great dessert, after school snack, and they pack well to go. Note: you can substitute low or non-fat cream cheese and sour cream if desired.

Little recipes occ humble all of us & this one humbled me. This was a PAC pick & I was attracted to the lovely ingredients, ease of prep & presentation you described in your intro. The 1st 2 reasons did not fail me, but Murphy's Law was in control of the presentation. Recap: You rarely have ingredient choices here & are happy to get what you need or a reasonable sub. DH bought raspberries by mistake & typical Icelandic pound cake glazed in a thin layer of choc. The apple was grainy & crumbled w/ea attempt to slice, so the slices got thicker & the Dessert Sandwiches got bigger. On 2 attempts to slice on the diagonal, all the pretty pieces crumbled to a pile on the cutting board. I was a desperate woman & felt totally incompetent! So I pre-cut the pound cake triangles, assembled them & snapped a pic. Then DH & I ate all the crumbled piles in bowls & they were delicious! I esp liked the light sweetness the honey gave to the cream cheese & sour cream mix. This & the cake combined w/the tart fruit to get just the right level of sweetness. I will try this again after PAC is over, cook the apple slightly in butter & brown sugar & hope to get a more easily cut outcome. Thx for posting this tasty recipe.
Beat the cream cheese, sour cream, honey and orange zest together in a small bowl with an electric mixer. Spread each slice of pound cake evenly with the mixture.
Core and slice the apple.
Assemble the sandwiches: lay the apple slices on 4 of the cake slices, dividing equally; top with 4 more of the cake slices followed by the strawberry slices, and cover with the remaining cake slices. Cut the sandwiches in half on the diagonal, then secure with a decorative pick.
Serve immediately, or cover with plastic wrap and refrigerate until ready to serve.