New York Style Cheesecake Adapted for India
Remiya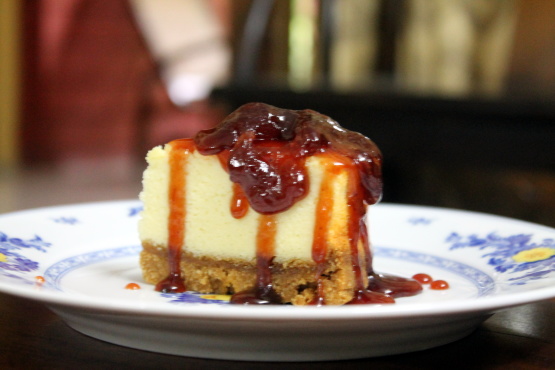 A wonderful recipe for those who crave cheesecake in India where we can't get cream cheese. This is also low fat. Very easy and quick. please let me know how yours turns out!

This proved a fantastic workaround for our GF+LV household :-D I made the panir and the yoghurt myself, from lactose free milk, and used gluten free cookies for the cookie crumb crust, and voila: gluten free, lactose free but REAL cheesecake!!! Thank you so much for this creative idea :-) :-)
Preheat the oven to 150. Line a 13 by 9" pan.
Crush the biscuits into fine crumbs with a hammer or in the grinder.
Mix the crumbs, 3Tbsp sugar and butter and press it firmly onto the bottom of prepared pan.
Bake the crust for 10 minutes.
Crumble the paneer and put in the jar of blender with the yoghurt, 3/4C sugar, flour and vanilla.
Blend until smooth, pushing the mix down with a spatula if needed.
Add eggs, one at a time, mixing well after each addition.
Pour gently over crust.
Dot tiny spoonfuls of jam over the batter.
Bake 40 min or until centre is set.
Cool completely. Refrigerate overnight.