New York Steaks in Green Peppercorn Sauce
lazyme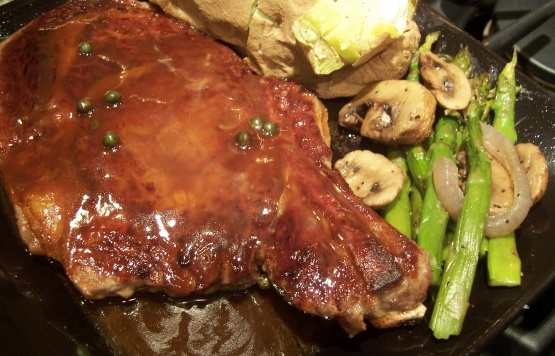 A delicious steak and sauce from Pol Martin, a famous Canadian chef. Rib-eye steaks may be substituted for the New Yorks.

Very close to the kind I had when I lived in Belgium and "faked" a recipe once I got back to the States. Excellent.
Preheat oven to 150ºF.
Cook steaks in two batches using the following procedure. Heat half of oil in large frying pan. When hot, add meat and cook 3 to 4 minutes over high heat.
Turn meat over, season well and continue cooking 3 to 4 minutes. Remove meat from pan and keep steaks hot in oven.
Place peppercorns in small bowl and add 2 tablespoons cream. Mash together and set aside.
Add butter to pan and heat. Cook mushrooms, shallots and parsley 3 minutes. Season.
Add cognac and cook 3 minutes over high.
Mix in rest of cream and peppercorn mixture; cook 4 to 5 minutes over high.