Prep 20 mins
Cook 1 hr 20 mins

This is an excellent 'basic' cheesecake. We have topped it with both cherry pie filling and fudge sauce, both were very good but the cheesecake was noteworthy in its own right too.
Directions
MIX crumbs, 3 Tbls sugar and butter; press onto bottom of 9-inch springform pan.
Bake at 350°F for 10 minutes.
MIX cream cheese, 1 cup sugar, flour and vanilla with electric mixer on medium speed until well blended.
Add eggs, 1 at a time, mixing on low speed after each addition, just until blended. Do not over mix!
Blend in sour cream.
Pour over crust.
BAKE 1 hour and 5 minutes to 1 hour and 10 minutes or until center is almost set.
Run knife or metal spatula around rim of pan to loosen cake; cool before removing rim of pan.
Refrigerate 4 hours or overnight.
Top with cherry pie filling and garnish, if desired.
Reviews
Most Helpful
I use this recipe. It's very good and easy. 3 suggestions: 1) Place unbaked cheesecake toward the top rack and in the middle of the oven. 2) Place a pan of water (any pan that holds water), I use a 9 inch pie pan. Fill pan with water and place it on the rack below the cheesecake, centered. 3) Check your cheesecake at 45 minutes, I rarely need the time noted on most NY Cheesecake recipes. I use this basic recipe for many variations. Save out 1 to 1-1/2 cup of batter, fold in 1/2 cup strawberry jam, once blended poor it in a circular motion to the cheesecake. Use a toothpick to swirl a bit more. Just swirl away then bake. Try chocolate. Save 1 to 1-1/2 cups of batter, add melted chocolate (1/2 cup semi sweet chocolate chips), blend, swirl & bake.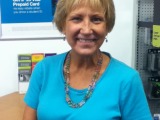 This is the most wonderful cheesecake. If you like a dense, yet smooth cream-cheese flavor - not-too-sweet cheesecake - you will fall in love with this one. This took me back to the day when my mom would take me as a little girl to a local authentic Italian restuarant and order one piece of their New York Cheesecake with a big glass of milk and split it. Itwas all we could afford, but it was also all we could eat because it was so rich. What a treat! My old cheesecake recipe has been replaced. Thank you again Marg for a wonderful recipe and a great way to carry on the old cheesecake tradition my mom started - now I can make it and won't she be surprised!
This is a good cheesecake that is easy to make. I made this last weekend on the spur of the moment, and the family really enjoyed it. Thanks!