New Twist for Mushrooms on Toast
Derf2440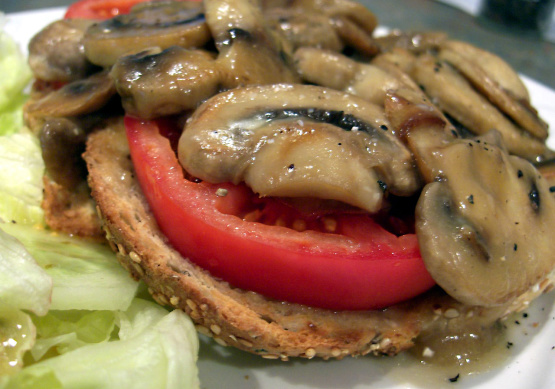 I was by myself for supper tonight, was looking for something quick, light and tastty. This turned out much better than I expected, a kind of clean the fridge thing, so I had to write it down for future reference.

Top Review by Bergy
GRRrrrreat I had this for lunch yesterday and it is so easy and very satisfying. Dorothy this would work on those styrofoam rice cakes too. I put the mushrooms in the skillet and browned them them put the mushrooms on the toast added the cottage cheese and parmesan on top and grilled it until the cheeses were bubbly & golden.Thanks for a repeat lunch recipe
In a frypan (cast iron is best) heat the oil and brown the mushrooms.
Add the cottage cheese.
Sprinkle the parmesan cheese over.
Add salt and pepper to taste.
Stir and turn over and over so it does not stick.
When cottage cheese becomes liquid, let it bubble for 2 or 3 minutes.
Meanwhile toast bread crisp.
Lightly spread with a very little margarine.
Place tomato slices on toast.
Sprinkle salt and pepper over.
Pour mushrooms and cheeses over tomatoes.
Serve immediately.