New Potatoes With Fresh Horseradish Sauce (Vegan)

This'll clear your air passages! From Vegetarian Times. Okay to use prepared horseradish but fresh horseradish root is highly recommended with this recipe if you want to experience the experience.
Directions
NOTE: original recipe also suggested 3/4 cup soft tofu instead of yogurt. Personally, I prefer the tofu sour cream.
In a large stock pot, gently steam the potatoes until fork tender; approximately 20 minutes.
Peel and grate the horseradish root. Stir together the horseradish root, sugar, salt, and white pepper in a small bowl.
Transfer the cooked potatoes to a serving bowl and gently toss with the yogurt mixture.
Adjust seasoning. Garnish with fresh chives. Serve hot.
Most Helpful
Like the others, I used jarred horseradish. I also used nonfat (dairy) sour cream. The combination was delicious!

So much wanted to make this with fresh horseradish root but my local grocery stores did not cooperate. They did have some lovely new potatoes though, so I used jarred horseradish (about 2 1/2 tablespoons - could have added more) and low-fat yogurt (could not find tofu sour cream either). This was simple but SOO delicious. That little bit of sugar went a long way, or maybe my cute li'l potatoes were sweet enough. Will have to try again with fresh horseradish. Thanks Cookgirl! Update - I was able to get fresh horseradish because it was available for the spring holidays and found tofu sour cream at the health food store. Although the recipe tasted better this way, I'll stick with the yogurt as it's lower in fat. Horseradish root, by the way, will burn your eyes and nose while being grated. Gave a real nice bite to the sauce though ;)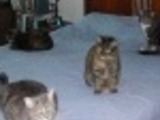 We really enjoyed - unfortunately I couldn't find fresh horseradish either. I had a container of horseradish cream and I had some wasabi...it was a toss up as to which to use. I went with the horseradish cream due to the kids. Great side dish...we really enjoyed it...I like the addition of the bit of sugar...it sort of enhances the flavour of the horseradish but doesn't make it sweet. Another make again recipe....you are a star, Cookgirl!