New Potato Salad for a Crowd
Parsley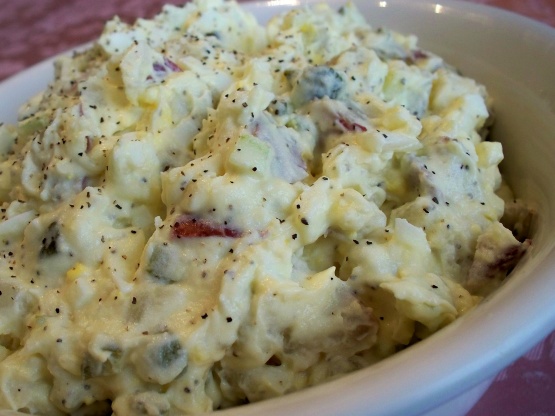 One of my adopted recipes that I have updated. The recipe comes from EverydayCook.com and makes quite a large bowl of potato salad. With summer picnic's, family reunions, and other special occasions this will be a welcome recipe to have on hand.

This was yummy! First time making potato salad. I also added celery pickle juice and pickles no sour cream because I did not have any, turned out wonderfully though.
Peel, cube, and boil potatoes in large pot of salted water.
In another pan, boil eggs.
When both have been cooked through, drain and let cool.
Peel eggs and chop.
In large mixing bowl add cooled potatoes, chopped egg, onion, pickles, and celery seed, salt and pepper.
Add sour cream and mayonnaise and stir gently to combine being careful not to mash potatoes.
Refrigerate until completely cooled before serving or overnight.