Derf2440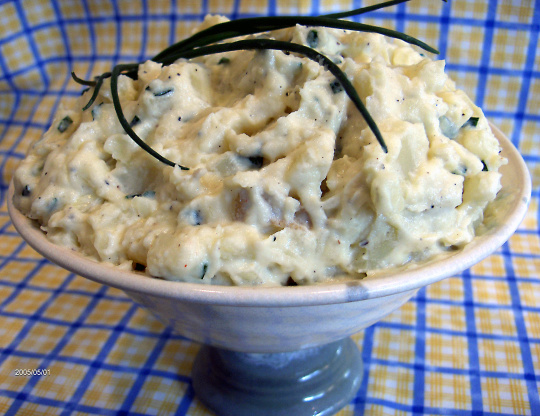 I prefer medium sized new potatoes, sliced thickly. For the best potato salad ever, add the olive oil and vinegar dressing when the potatoes are hot and the mayonnaise when the potatoes are cold.

Fabulous!!I loved the addition of the vinegar after cooking, so I just added a little more, which was a tarragon vinegar, so I also added some dried Tarragon. Let that sit for specified time, and tripled the other ingredients, yogurt,Mustard, Mayo and and tossed it and chilled. Too good! Really! I love the freshness of it, and the bite from the vinegar and mustard, and also love the fact that I do not have to add the notorious boiled eggs that always accompany a potato salad. The onion is suffice, although if I were to add an extra ingredient, it would be sliced green olives.I think that those would enhance the already fresh/tart flavour of this salad, and provide some colour to boot. Perfect the way it is though! Thanks!Love it!!Perfect with BBQ
Rinse the potatoes and boil in their skins until just tender.
Drain, then turn on to a clean tea towel to dry.
When they're cool enough to handle, peel off their skins and slice thickly.
To make the dressing: combine the oil and vinegar and season.
Add the onion and chives.
Gently stir the dressing into the potatoes and marinate for at least 1 hour.
Blend the mayonnaise with the yoghurt and mustard.
Add to the cold potato salad and carefully mix in, then turn into a serving bowl.
This salad will keep for at least 24 hours in the refrigerator and even seems to improve in flavour.