New Orleans Voodoo Shrimp
Kim127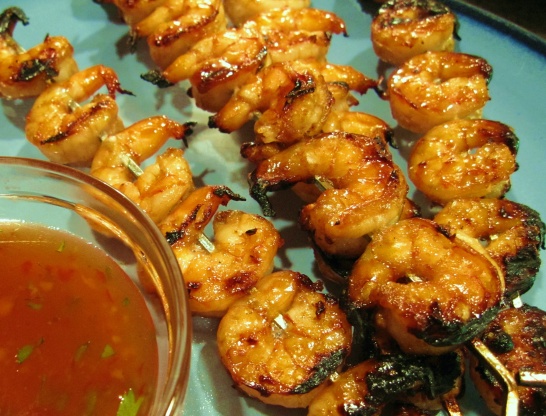 Recipe by Chef Duke LoCicero, Cafe Giovanni 117 Rue Decatur, New Orleans, LA 70130 Located in the heart of historic French Quarter in New Orleans, Cafe Giovanni offers "New World Italian Cuisine." Orchestrated by the executive chef and the owner of the restaurant, Duke LoCicero, Cafe Giovanni's menu is cooked with fresh ingredients with American, French, Italian and New Orleans' distinctive Creole styles. Prep time is standing time. Serve 4 as an appetizer, or two as an entree. Posted for ZWT5.

The serving size is 3 shrimp? That doesn't add up with the nutrition of over 1,000 calories per serving.
12

jumbo shrimp, peeled & deveined, tails left on

Marinade

1

cup honey

1

cup butter, melted (2 sticks)

1

tablespoon Worcestershire sauce

1

lime (juiced)

3

ounces balsamic vinegar

VooDoo Sauce

1

cup chinese sweet chili sauce (Lucky Boy brand preferred)

2

ounces southern comfort liqueur

2

sprigs cilantro, chopped

1

lime (juiced)

1

tablespoon Tabasco sauce

3

ounces honey

1

ounce sesame oil
Mix marinade ingredients, place shrimp in marinade and let stand 1 hour.
Meanwhile, mix VooDoo sauce ingredients.
Grill or saute shrimp until done and serve with VooDoo Sauce.