New Orleans-Style Bread Pudding
chefRD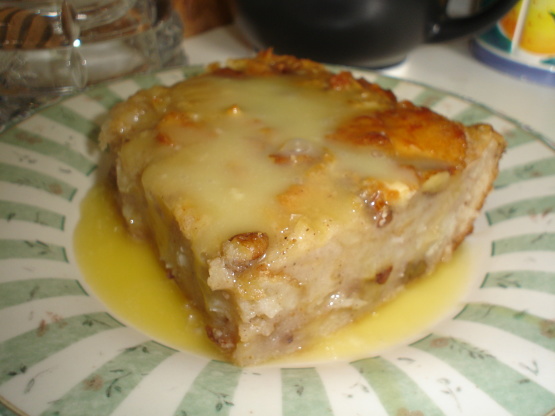 From my favorite dessert cookbook: "Gooey Desserts-The Joy of Decadence" by Elaine Corn She states: My mother goes to conferences now and then with my father. When the men sequester themselves, she and some other spouses attend cooking classes. During one such confab in New Orleans, she took a class from Joe Cahn at the New Orleans School of Cooking, and brought home this incomparable recipe. My friend Kathleen, who is also my chief bread-pudding tester, warns anyone who has just partaken of this dessert to wait a while before driving. "God forbid you might have to take a Breathalyzer test! Whew!

This is now the recipe everyone requests for family gatherings. I throw in a cup of bittersweet chocolate chips which makes it even more decadent. I skipped the whiskey sauce and topped it with Buttermilk Syrup #16717.
For the Bread Pudding:.
Butter a 9 by 13 inch baking pan. Set oven rack in lower third of oven and preheat oven to 350 degrees.
Combine all ingredients. Mixture should be very moist but not soupy. Pour into the buttered dish and bake 1 hour and 15 minutes until top is golden brown. Serve warm with Joe's Whiskey Sauce.
For Whiskey Sauce:.
Using a hand held mixer, cream butter and sugar in a saucepan over medium heat, beating until all butter is absorbed. Remove from heat and blend in yolks. Pour in bourbon gradually, stirring constantly. Sauce will thicken as it cools. Serve warm on warm bread pudding.