New Orleans Style BBQ Shrimp
Nimz1466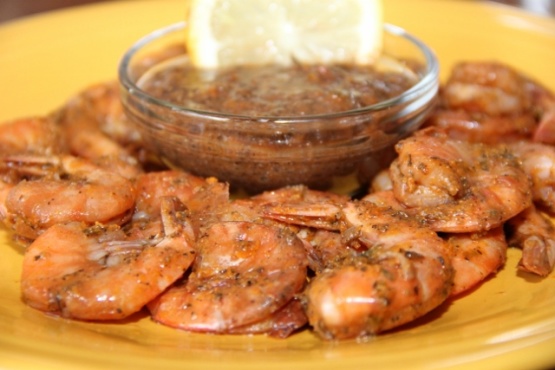 This is a recipe demonstrated at the 2010 Pensacola Seafood Festival. It is from Jerry's Cajun Cafe, and the creator is Jerry Mistretta. Yummy! Don't be scared away by the list of ingredients....this is really quick to put together.

I had so many mixed opinions about this recipe it was extremely hard to rate for me. The shrimp cooked in the sauce, peeled and dipped in Zesty Cocktail Sauce was very good and very hot. Dipped in the sauce that it cooked in, which is the way I read the recipe it was extremely strong and way, way too hot and I love hot and spicy. It totally covered up the flavor of the shrimp. I made as directed using only about a pound and one-half of shrimp and all of the sauce and used chicken broth in place of the white wine. Very interesting recipe for sure. Thanks for sharing. Made for PRMR. Update: When I came home this week, DH had eaten all of the leftover shrimp and wanted me to make it again this weekend. He said he just peeled them and used cocktail sauce and some lemon and he loved them. :) So I upped my star review.
Rinse the shrimp in cold water; pat dry and set aside.
Melt butter in a large skillet and combine all ingredients, except the shrimp. Bring the mixture to a simmer, stirring frequently.
Add the shrimp. Turn the heat to high and cook, stirring often, for 5-10 minutes until shrimp curl (make a C, if it is an O the shrimp are overcooked!) and turn pink. Do not overcook -- the shrimp will be tough and chewy if you do. Serve immediately. Peel and eat, dipping into the sauce.