New Orleans Shrimp Creole
Linky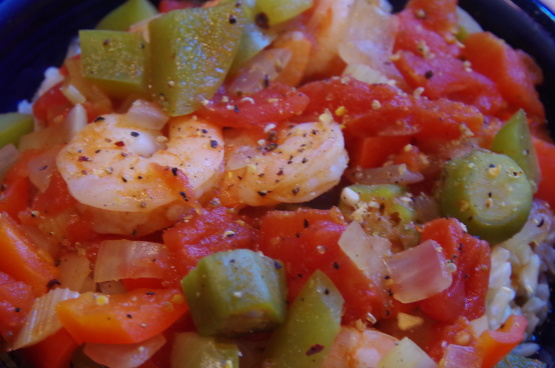 I love Creole food and this is a wonderful way to lighten up a classic. Easy enough for a large gathering or simple enough for a small dinner party. Serve with crusty bread for a dining experience. Recipe is from "The Diabetes Food and Nutrition Bible".
In a large stockpot, heat the white wine over medium heat until it boils slightly; add in the onions, celery, peppers and garlic. Saute for 10 minutes.
Stir in the okra, tomatoes, tomato paste, broth, and seasonings. Bring to a boil, reduce the heat and simmer for 45 minutes.
Add in the shrimp and continue to cook for 5 to 6 minutes or until shrimp turn pink. Season with salt and pepper if desired.
Spoon stew into bowls and top with a scoop of cooked brown rice.