Pam-I-Am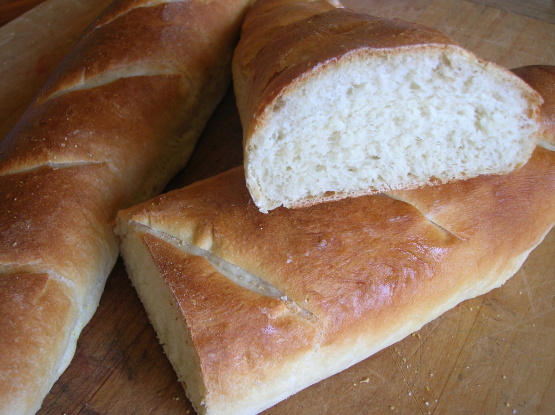 From "Home Cooking" Magazine. If you've never tried to make a traditional French baguette - it's easier than you think. This recipe makes 4 loaves, perfect for freezing extra bread to accompany future meals all winter long.

This makes wonderful bread. It has a chewy crust and nice soft insides. I had a shorter baking time, also. After turning the heat down to 350, I only baked the bread for 20 minutes. I have no idea how accurate my oven is, though. We gobbled up nearly an entire loaf tonight with supper (and there are only 2 of us -- sometimes we like a little main course with our bread heheh) and 3 loaves are safely in the freezer. Thanks so much for the recipe!
1

(1/4 ounce) package dry yeast
2 1⁄2 cups warm water (105 to 115 degrees)

2

tablespoons sugar, divided

1

tablespoon salt
6 1⁄2-7 cups flour, divided

1

egg white, slightly beaten
Preheat oven to 450 degrees.
Combine yeast, water and 1 teaspoon sugar in a large bowl, stirring until dissolved. Stir in remaining sugar, salt and 6 cups flour to form a stiff dough.
Turn dough onto a surface sprinkled with remaining flour; knead dough for 8 minutes or until smooth and elastic. Place dough in a greased bowl, turning to grease top. Cover and let rise in a warm place (85 degrees), free of drafts, 1 1/2 hours or until doubled in bulk. Turn dough out onto a lightly floured surface. Cover and let rest 15 minutes. Knead 3 to 4 times.
Divide dough into 4 equal portions; roll each portion into a 13x7-inch rectangle. Roll up each rectangle, jelly-roll fashion, starting at a long end. Pinch seams and ends together to seal. Place loaves, seam side down, in 4 heavily greased baguette pans or on baking sheets.
Cut 3 or 4 diagonal slashes, 3/4 inch deep, in top of each loaf. Cover and repeat rising procedure 1 hour or until doubled in bulk. Brush loaves with egg white. Bake 15 minutes, reduce heat to 350 degrees and bake 30 minutes or until loaves sound hollow when tapped. Remove bread from pans or baking sheets immediately; cool on wire racks.