New Orleans Barbecued Shrimp
Fonmon11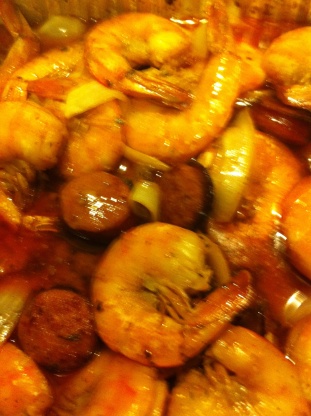 Spicy, Spicy shrimp dish, the best I've ever eaten. From "The Frugal Gourmet". Get your napkins ready...

I've been making this dish for over 20yrs. now & it's always been a family favorite. I just made it last night for my daughter's 28th birthday dinner. I buy the frozen shrimp from Costco, it comes shelled. It doesn't make any difference. I use more garlic than the recipe calls for, I've also done it without bacon during Lent. You can't taste the difference. I serve it over red beans & rice with good sourdough bread for dipping. It's always a hit.
Preheat oven to 375°F.
In a frying pan, fry bacon until clear.
Add margarine and all other ingredients except shrimp.
Simmer for 5 minutes.
Place shrimp, in a single layer, in a baking dish and pour sauce over the top.
Stir to coat.
Bake uncovered for 20 minutes.
Stir once or twice.
Serve immediately.
You can peel these when you eat them, but not before.
Serve with plenty of napkins!