New Mexican Potatoes Au Gratin
Parsley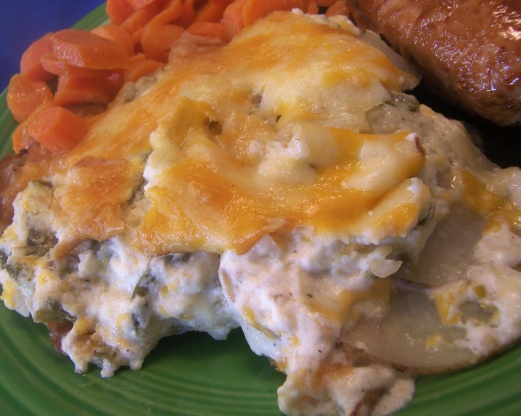 Try this variation on the traditional potato dish; it's creamy, and a little bit spicy.

This was very good! We liked the little bit of spiciness from the green chilies. I used a colby/monterey jack blend cheese. I made 2 seperate casseroles; the 1 I made with the chopped green chilies (as written) and the other I made with chopped jalepenos! Woooo-wee!!! If you like spicy, try that! Thanx for a great new potato dish. I'll be making this again.
In a saucepan, melt butter over medium high heat.
Add flour and let cook and brown slightly, forming a thick roux.
Stir in sour cream, chilies, salt and pepper, letting sauce thicken to the consistency of thick gravy. (Add milk 1 T. at a time if you need to thin it a bit).
Remove from heat and add most of the cheese; set aside.
Slice unpeeled potatoes into 1/4 inch thick slices. Place one layer in small casserole, and pour half the cheese sauce over. Layer and and pour again.
Bake at 350°F for 45 minutes-1 hour. Top with rest of cheese and bake an additional 15 minutes.