Bayhill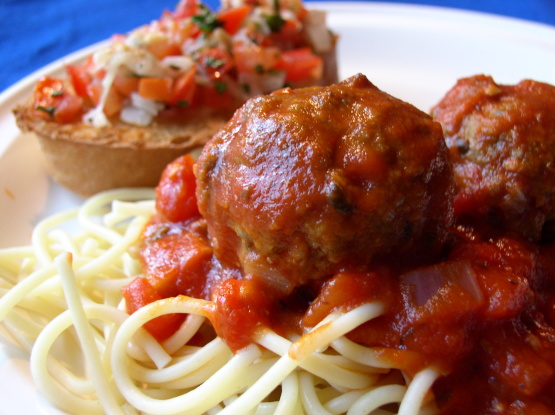 Because I'm a new Mama! These meatballs are fantastic in an Italian red sauce with pasta or on their own. I like the fact that they are made in the oven because it's less of a mess. When my husband has been a very good boy I make him these meatballs. Hope you enjoy. Please let me know. Thanks!

Yep, these were brilliant. I cut out the salt and used home-made breadcrumbs since we're on a low-sodium diet, but the rest of the flavours came through beautifully. Shallots a lovely difference from the onion I usually use. Plus, oven baking like this made for a much lower fat option than the usual pan-frying. Thanks so much!
3

lbs ground veal (OR 1 pound each, pork, beef and veal; OR Whatever combination of ground meat you want to use.)
1⁄4 cup minced shallot

1

teaspoon minced garlic
1⁄4 cup chopped fresh basil

2

teaspoons salt
1⁄2 teaspoon ground pepper
1⁄4 teaspoon ground nutmeg

1

egg

1

cup breadcrumbs (I used the canned stuff)
1⁄2 cup whole milk
1⁄3 cup grated or powdered parmesan cheese
You will also need: thin latex gloves (optional).
Preheat oven to 375, spray a rimmed baking sheet with nonstick spray and set aside.
Combine meat, shallots, garlic, basil, salt, pepper, nutmeg, egg, bread crumbs, milk and parmesan in a large bowl and mix thoroughly.
I wear thin latex gloves because I can really mix the ingredients and shape the meatballs without getting it under my fingernails.
Scoop up ¼ cup sized portions and shape into 1/2 inch balls.
Place meatballs, spaced apart on baking sheet.
Bake in preheated oven for about 20-25 minutes or until browned and cooked through (160 degrees in centers).
Do not overcook.
Add to pasta sauce or sweet and sour sauce or brown gravy.
Very delicious.