New England Soup Factory's Spicy Chickpea and Butternut Soup
Chef Oz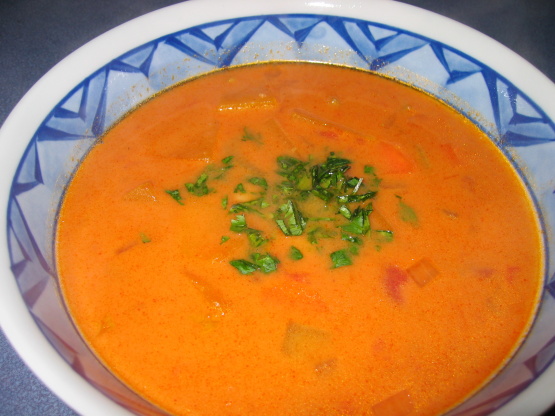 When we lived in Boston, we loved to get soup from the New England Soup Factory, known for their hearty and unusual combinations. This is one of their recipes. Although it's a 'cream' soup, since the base is coconut milk it remains vegan. The coconut is perhaps not what you're used to seeing with chickpeas and butternut but it really adds a sweet richness and fullness.

Top Review by cyaos
This is a highly unusual soup. We both liked it but froze the leftovers because we just couldn't eat too much of it - it almost becomes overwhelming after awhile and this recipe makes a lot of soup! Hopefully it does freeze okay. I did not add the full amount of broth called for - I used about 2 quarts instead and it made it a thicker, heartier soup for our main course. I did put in extra garlic and used a little extra fresh grated ginger and omitted the coconut extract as I felt that would make the taste too sweet. Next time I will omit the flakes as well - not only did they add too much sweetness - it looked rather unappetizing. Thanks for posting!
Heat olive oil and garlic in a large heavy stockpot.
Sauté 1-2 minutes.
Add onions, carrots and celery.
Sauté 10-15 minutes.
Add squash, canned tomatoes, stock, tomato juice, soy sauce, lime juice, chickpeas, ginger and coriander; bring to a boil.
Cook until all the vegetables are tender, approx 30 minutes. Add coconut milk, flaked coconut, coconut extract and cilantro, warm through.