New England Potato & Salmon Cakes
Bergy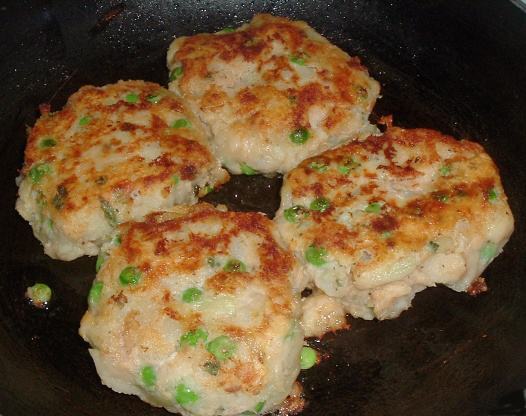 This is a Mrs Dash recipe and they are quick & easy to prepare. I made them in the morning and put them covered in the fridge all day. I cut back the Mrs Dash spice to 1 tbsp. They are very tasty - I used fresh new peas instead of frozen - they give a nice texture. and served them with Tartar sauce Fried them up 10 minutes before serving A very inexpensive recipe

Top Review by Latchy
Very tasty, I used frozen mint peas in the recipe and I think the mint added something to the salmon cakes. As we dont have Mrs dash here I made up Mrs Dash Seasoning recipe no.20729 and used it and it all turned out fine, but can't say if that seasoning is the right one, but as long as the taste was fine, its good.
Mix together all the ingredients except flour, oil& butter Mix well and form into 6 patties Dredge the patties lightly in the flour Over medium heat, melt the butter and add the tsp oil.
Add patties and brown on both sides, apprx 5 minutes per side Serve.