New England Pierogies Dinner
Ilysse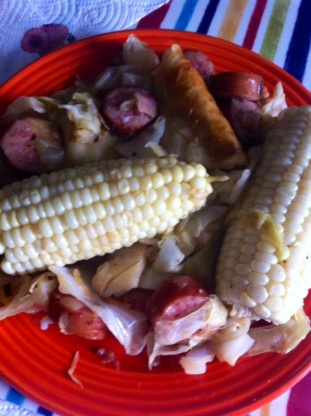 This is the easiest dinner!! One pot, one serving dish...only minutes to prepare AND cook! When corn on the cob is not in season, I simply add a drained can of corn. Leftovers taste even better!! Not sure where I got this recipe, but I have made this dish over and over again and never get tired of it.

This is very good! I have to admit I had some concern when I tasted what was on the spoon after turning; I thought it was going to need more flavoring. As it turns out this dish just really relies on the butter for salty, creamy goodness so if you're tempted to skimp on the butter I highly recommend that you don't. I also could only find an 18 oz box of full-size pierogi--I bet the mini ones would be nice for getting infused with the butter/Old Bay. One more note--this would definitely not serve 6 at my house; we did well to serve two with a few leftovers.
Bring 1 cup water and Old Bay seasoning to a boil in a Dutch Oven.
Add cabbage, corn, kielbasa and 1/2 tablespoon butter to Dutch Oven when water is boiling.
Cover and cook 10 minutes, turning ingredients once or twice to avoid sticking. Cabbage and corn should be tender.
Meanwhile, defrost pierogies in the microwave (about 2 minutes).
Add pierogies and remaining 1 tablespoon butter; toss to mix.
Garnish with parsley.