New England Dinner Au Gratin
Parsley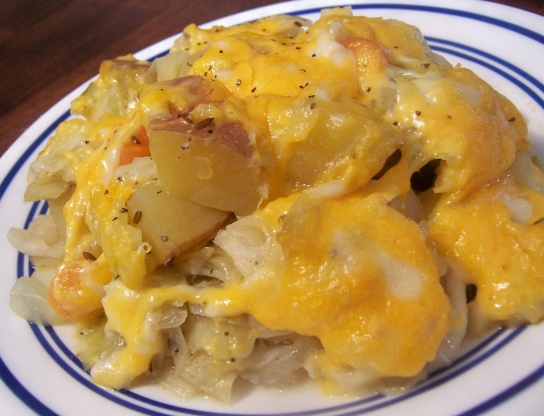 I found this recipe in Lean and Luscious and Meatless. This dish is a cross between a stir-fry and a stew. You can serve it over cooked brown rice, or spoon it into bowls and serve with thick, crusty bread. The flavor is wonderful!

This was good. I did not need to cook the veggies for near half an hour--I took them off the heat after 20 minutes and they were already a bit mushy. Perhaps my pieces were small? The flavor was pretty good, though I would double or even triple the salt and pepper or use broth instead of water. Just MHO. I added a package of sliced turkey kielbasa before baking and it was definitely a yummy addition for the non-veg crew :). There are so many fun ways to play with this recipe--adding kraut, a splash of wine, broth, an apple, egg noodles--the list goes on! Thanks for posting.
Place cabbage, potatoes, carrots, and leeks in a 4-quart Dutch oven.
Sprinkle spices over vegetables and mix well.
Add water.
Bring mixture to a boil over medium heat, stirring occasionally.
Cover, reduce heat to low, and simmer 30 minutes.
Preheat oven to 350 degrees.
Spread cheese evenly over cooked vegetables.
Place in oven and bake, covered, 25 minutes.
Serve as is or over any cooked grain.