New England Clam Chowder (Dairy-Free and Low-Fat)
gail663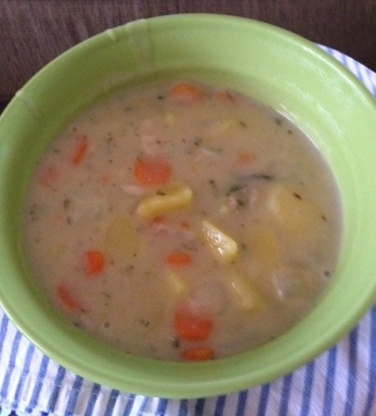 I'm posting this for my mother. We recently returned from a trip to Cape Cod, where we were both very disappointed about not being able to eat the cream-filled clam chowder as a result of our IBS. This recipe is from my favorite cookbook, Eating for IBS by Heather van Vorous, and is completely dairy-free and delicious!
In a large stockpot, heat the oil over medium heat. Add the onions and carrots and saute until softened.
Gradually sift in the flour, stirring thoroughly and scraping bottom of pan.
Very gradually stir in the clam broth, scraping sides and bottom of pan to make sure flour is thoroughly incorporated without clumping.
Stir in rice milk until mixture is smooth.
Add the clams and spices, bring soup to a boil, then cover and reduce heat. Simmer for 30 minutes.
Add diced potatoes, cover and simmer for an additional 30 minutes.
Taste and adjust seasoning with salt and pepper.
Serve with crushed Saltines.