Catnip46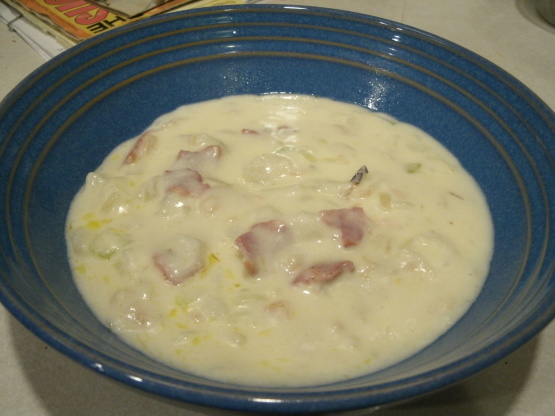 This recipe is pretty much like everyone's else except I use evaporated milk and half & half. Easy enough to make and taste pretty darn good on top of it.

A very easy recipe to put together. Great flavors and thick and creamy. Only change I made was to double the amount of clams. Made for Spring 2010 PAC.
Cook potatoes until tender.
Melt butter in a medium size saucepan over medium heat. Add onions and celery. Cook, stirring frequently, for 7-8 minute or until tender.
Add finely chopped potatoes to onion and celery.
Combine evaporated milk and flour in small bowl until blended; add to vegetable mixture.
Stir in half & half, clams with juice, water, salt, pepper and crumbled bacon.
Reduce heat to medium-low; cook, stirring frequently, for 15-20 minute or until creamy and lightly thickened.