New England Clam and Corn Chowder With Herbs
Devin7H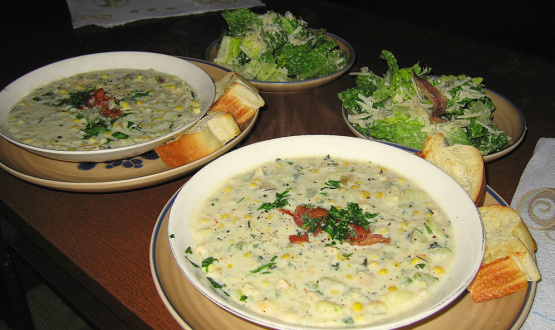 I haven't made this yet, but I'm sure I will...the photo in Bon Appetit looks absolutely delicious.

With one exception ~ shredding the carrots ~ I pretty much followed the recipe on down & thought this was one of the most flavorful clam chowders I've ever had! Really liked the addition of the carrot & the corn & will be making it again, for sure! Thanks for a great keeper recipe! [Made & reviewed in 1-2-3 Hits recipe tag]
Cook bacon in large saucepan over medium heat until crisp. Transfer bacon to opaper towels to drain. Pour out all but 3 tablespoons drippings from pan.
Add next 4 ingredients to pan; sprinkle with salt and pepper. Saute until vegetables are crips tender, about 5 minutes. Sprinkle flour over; stir 1 to 2 minutes. Gradually add milk to pan, stirring constantly. Bring to boil; reduce heat to medium and cook until slightly thickened, stirring often about 5 minutes.
Add potatoes, clams with juice, and drained corn. Bring to boil; reduce heat to medium-low and simmer until potatoes are tender, stirring often, about 10 minutes.
Season to taste with salt and pepper.
Divide soup among bowls, sprinkle with bacon and parsley, and serve.