Prep 15 mins
Cook 30 mins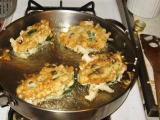 These delicious mashed potatoes are as basic and easy to make as you'll find anywhere. I have provided detailed instructions to keep new chefs out of trouble! You can modify this basic recipe as you wish. Enjoy!
Directions
Boil 1 gallon of water in a 2 gallon cooking pot, covered. Do not add salt.
Meanwhile, peel the potatoes and then cut each in half. Rinse them and drop them into a bowl of cold tap water. (You should be using nice-sized potatoes, large enough to bake -- sized between medium and large).
When the water begins a good rolling boil, drain the potatoes from the cool water and drop them into the pot. Cover the pot until it begins to re-boil, then remove the lid and reduce the heat until the potatoes are cooking at a low boil, uncovered.
When the potatoes are "fork-tender," drain them in a colander and return them to the pot (no heat). Cut in the two sticks of butter, add the salt and pepper, and then begin mashing the potatoes with a hand masher. (Do not use a hand mixer -- this generates "whipped" potatoes which can be a bit gluey).
When the potatoes are pretty well mashed, begin adding the milk, 1/4 cup at a time, and stir until the desired consistency is achieved. You may not end up using the entire cup, or, you may end up using a bit more -- potato moisture varies widely.
If you get them too thin, just re-warm them over very low heat, stirring frequently, uncovered, until they stiffen back up.
Serve hot.
NOTE: As you choose, you can modify these mashed potatoes by adding sour cream, garlic salt (not too much!), Parmesan cheese, etc. Honestly, I like the basic recipe, with no additions, the best.
Most Helpful
I love Mashed potatoes,and I fix mine like this,most of the time.I don't use a mixer,whenever I want little (very small),pieces of potato in my mashed potatoes. I also use Mrs.Dash's Table Blend. Delicious. Weezy
There is nothing better than this! I like texture in my mashed potatoes and you are right, the potatoes are gluey, good but so smooth in a mixer. This is a good basic mashed potato recipe. Sometimes I keep 1/2 cup potato water and use with 1/2 cup whole milk. I save the other water for breads. Thanks for posting! Some of the basic recipes need to be posted because many new cooks are getting away from the fast prepared box foods. I have used a little sour cream or cream cheese but usually the recipe is as posted and it is never a failure!