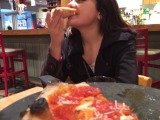 This is the national dish in Nevis, West Indies. Delicious curried goat stew. It's really good and every restaurant on the island has it on the menu. Now I doubt this recipe will be reviewed by many, if at all. I just want to post it in case someone is looking for it and so I don't forget how to make it. If you do happen to make it, be sure to serve it over steaming hot white rice and with corn bread and ice cold beer!
Directions
Wash & cut meat into bite sized pieces. Combine ingredients & rub into meat.
Cover and marinate in the refrigerator for at least 6 hours.
Bring stock to a simmer in a heavy saucepan. Now add all the meat, ingredients, and marinade to the simmering stock.
Cover pot & cook slowly over medium heat, stir occasionally.
Continue to simmer for at least 2 hours or until meat is tender.
Add more stock if necessary.
Remove bay leaves before serving.
Serve over Basmati rice, accompanied by roti bread or corn muffins for sopping up the gravy.