Never-The-Same-Twice Meatloaf
Bergy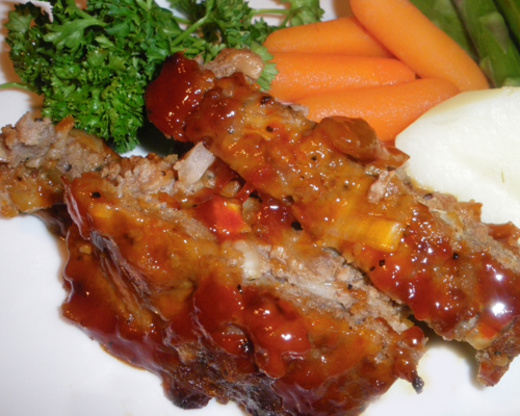 Every time you make this recipe, use a different chutney and/or a different barbecue sauce. The possibilities are almost endless!

This is such delicious variation on the standard meatloaf recipe. I love mangoes, so I used Major Grey chutney, which has mangoes, tamarind, etc. I also liked the way the soaked bread gave a smoother consistency to the meatloaf than just mixing in pieces of bread. The only thing I wish I had done differently would have been to make two loaves instead of one. We finished up the whole meatloaf at dinnertime, and DH was really disappointed there was no left for meatloaf sandwiches the next day. Thanks for posting this, Mille!
Soak slices of bread in chutney until soft and combine with remaining ingredients.
Mix well, and place in a meatloaf pan.
Bake at 350°F for 45 minutes.
Remove from oven and, with the back of a teaspoon, make a shallow ôtrenchö, lengthwise, on top of the meatloaf, and fill the 'trench' with barbecue sauce.
Return to the oven and bake for another 15 minutes.