Juenessa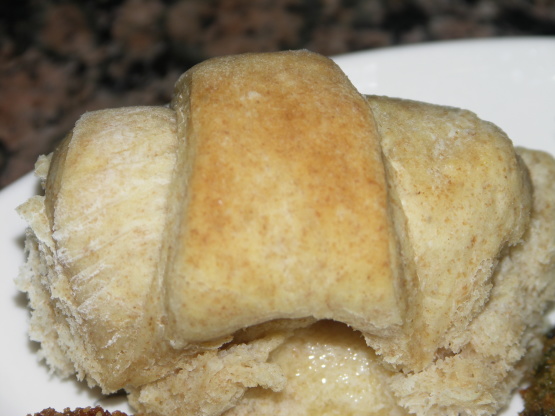 You would never know that these rolls have cake mix as one of the main ingredients. These rolls are easy to make and delicious! Sometimes I don't use all white flour and put 1 to 1 1/2 cups of wheat flour in as well.
These were actually fun to make. I followed the recipe to a T (thanks chef for the cake mix tip) and got exactly 24 rolls. The dough is quite sticky so a well floured board and hands is critical - trust me on this! ;-)! I did have to let it rest as my circles kept trying to shrink back up. My baking time was a little longer surprisingly as my oven usually runs hot - took about 17 minutes to get the tops brown. Thanks for sharing your recipe!
In a large mixing bowl, dissolve yeast in warm water.
Beat in the flour, dry cake mix and salt (do not knead). **When mixing if too dry you might want to add 1-2 tablespoons more of water at a time until you can get dough thoroughly mixed.
Place in a greased bowl.
Cover and let rise in a warm place until doubles, about 1 hour.
Punch dough down.
Divide dough in half.
Flour the surface where you are going to roll the dough out.
Roll each portion into a 12 inch circle.
Cut each circle into 12 wedges.
Roll up, beginning at the wide end.
Place point side down on greased baking sheets.
Brush with butter.
Cover and let rise until doubled, about 25 minutes.
Bake at 350 degrees for 12-15 minutes, or until golden brown.