Never Fail Perfect Cooked Rice
Nif_H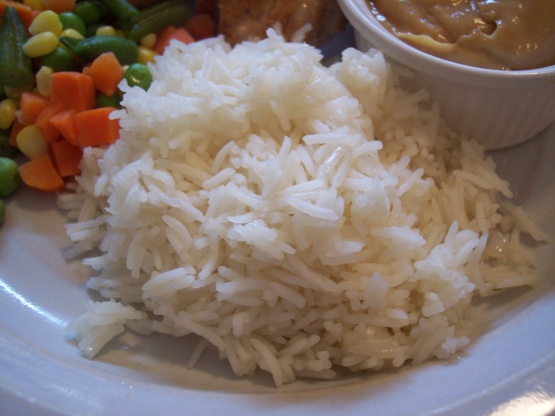 This is a method that I have used for years and my rice is perfect every time- I will call for Basmati rice (my favorite) in the recipe but any long grain white rice is fine. You can also cook brown rice with this method but it takes a little longer cooking time. I have posted this recipe for 1 person but you may just increase the rice and water for each person. If you use the chicken stock powder don't use a tsp for each person if say you are cooking rice for 6 don't go over 1 tbsp Pre soaking your rice removes some starch and allows it to cook faster. If you wish add some fresh chopped chives

I used to have trouble with getting my rice to turn out perfectly every time. It was inconsistent at best. You rescued me from my rice woes a couple of years ago by sharing your rice cooking method in a thread in the community forums after RSC #5. I was glad to see you post this recipe and know it will help others. I still use your method. I do substitute the flavor of the stock bases depending on what I plan to serve it with. This makes perfect rice for fried rice too. Thank you Bergy for sharing your rice method with me. I think of you every time I make rice!
1⁄3 cup basmati rice

3

cups water (apprx)

1

teaspoon chicken stock powder (optional) or 1 teaspoon vegetable stock powder (optional)
Measure your rice into a pot and cover it with water until the water is apprx 1/2" over the top of the rice.
Soak the rice for at least 1 hour.
Pour off the water and replace with fresh water,again, the water should be apprx 1/2" over the top of the rice.
Add 1 tsp of stock powder if using.
Bring rice to a boil,uncovered, simmer for apprx 7 minutes, keep checking until the kernels are perfect.
Drain in a sieve and run hot water through it.
Serve now or return to the pot lid on and keep over lowest stove temp until the rest of your dinner is ready.It can sit like this for up to 10 minutes.