Neua Nam Tok (Vietnamese Grilled Beef Salad)
RonaNZ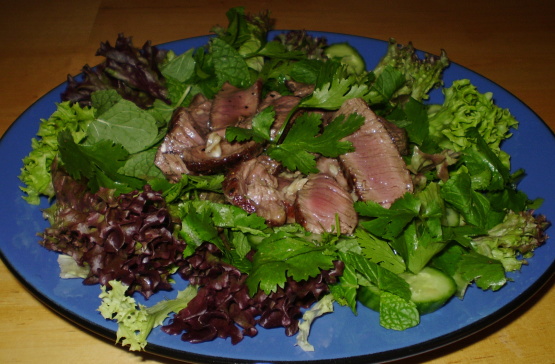 From The Best Recipes in The World by Mark Bittman. Cook time does not include time to heat grill or preheat broiler. This can be an appetizer or a main dish if served with rice.
Preheat a grill or broiler. Sprinkle the steak with salt and pepper, then grill for about 4 minutes per side or until medium-rare. Remove from the heat and let rest for about 10 minutes.
Meanwhile, whisk together the nam pla, lime juice, farlic, shallots, chiles, and sugar. Cut the steak into 1/4 inch slices and immediately toss the steak with the dressing.
Place the lettuce, cucumber, mint, and cilantro on a plate and top with the steak and dressing. Serve immediately.