Nestle Crunch Snowball Cookies
lisacope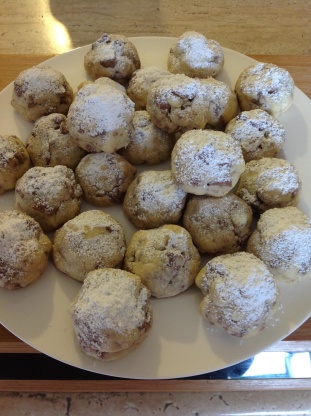 Buttery shortbread balls studded with bits of Nestle Crunch bars and blanketed in powdered sugar...yum! Recipe from a Christmas link; haven't tried this yet. *yield and times are just assumptions.*
Heat oven to 375*F.
Cream together the butter, 3/4 cup of the powdered sugar, and the salt until fluffy; blend in the vanilla.
Gradually beat in the flour, blending just until combined; stir in the Crunch bits.
Shape dough into 1 1/4" balls; place 1" apart on ungreased cookie sheets.
Bake 10-12 minutes, or until cookies are set and bottoms are lightly browned.
Sift the 1/4 cup powdered sugar over the hot cookies; cool on baking sheets 10 minutes.
Carefully transfer cookies to wire racks and cool completely.
Dust with additional powdered sugar, if desired. Store in airtight containers.