Berdie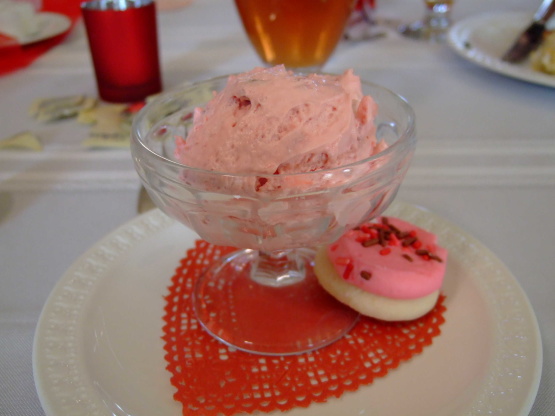 I got this recipe from a friend for my house warming party last year. It's so easy to make and so good! She makes it from memory every time...I still need directions. I hope you enjoy it.

This was a nice, light and fluffy dessert (notwithstanding the unattractive mental picture that the recipe's name offers up lol). I didn't have any pecans, so I left those out, but it was okay because I'm not sure I would have wanted little hard bits in something so fluffy. I did kinda wonder when I made it, though, was the Cool Whip amount supposed to indicate the large-size tub? I added two small-size (8oz) tubs to make the 16 ounces, but it seemed a bit heavy on the Cool Whip, and I was thinking that maybe I should have went with one large-size (12oz) tub of Cool Whip instead. No matter, it was still good. As an afterthought, I bet this would be really good as a dip for shortbread cookies or graham cookies. Thanks for posting! Made for PAC Fall 08
Blend cream cheese, lemon and condensed milk together till smooth.
Add the rest of ingredients with the whip cream at the end.
Mix well and serve.
(If you want to make it in a pie form, add a packet of Knox unflavored gelatin when you first blend cheese and milk together. You can use the Oreo or graham cracker pie shells. Store in refrigerator for about 1/2 hour before serving).