Nemo's Egg and Tomato Salad
Bergy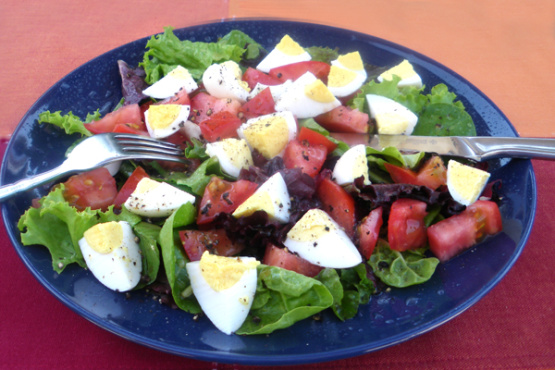 I had to think of something light and tasty for lunch. The only thing carb-less I could think of was salad. I was dreading the thought because it's really cold lately, but in the end I must say I was pleasantly surprised at the wonderful flavor! It even tasted like it had mayo on it, but it didn't!
2

eggs, hard boiled, cut into small pieces (I took them out after 5 minutes of boiling)

1

tomatoes, cut into small cubes (can also use 1/2 only)

2

cups mixed salad greens, washed and torn into pieces (I use pre-packed bags that our supermarkets prepare daily, already washed and cut)

1

tablespoon olive oil

1

pinch salt & freshly ground black pepper (to your taste)
Place lettuce mix into serving bowl.
Add the tomato and egg.
Sprinkle with salt and pepper according to your taste.
Drizzle with olive oil.
Toss it all well and enjoy!