Zurie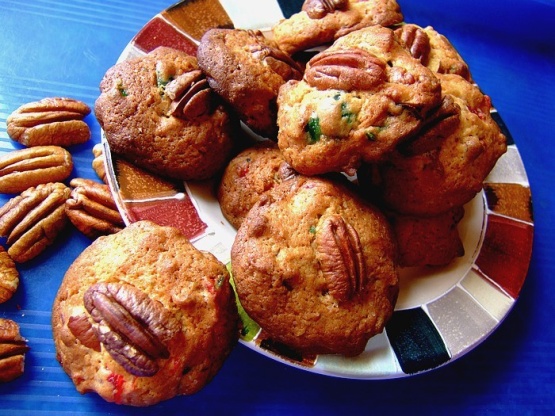 Altho this recipe requires a lot of "cutting/chopping"... it's worth every second. I made this for a cookie exchange one time and afterwards, when the hostess' husband arrived home... he took one look at my cookies and said "My grandmother made those fruitcake cookies!" ... to which I responded... "So did mine." He loved them and requested the recipe, which I gladly shared.

My grandma used to make these cookies for Christmas every year and we loved them so I was very excited to find this recipe!!! I used a 1/2 c. mixed peel (I had some left over and didn't want to waste it) in mine and 1/2 c. glazed cherries along with the nuts and dates and they turned out exactly like I remember! Thank you for sharing such a wonderful old fashioned recipe!
1⁄2 cup Crisco

1

cup brown sugar

1

egg
1⁄4 cup milk

2

cups sifted flour
1⁄2 teaspoon baking powder
1⁄2 teaspoon salt
1⁄2 teaspoon baking soda

1

cup chopped dates (the whole ones you have to cut up are better than the pre-diced one)
1⁄2 cup candied red cherries, cut in quarters
1⁄2 cup green glazed cherries, cut in quarters
Cream together crisco and sugar.
Stir in egg; add milk and blend well.
Sift dry ingredients together, stir in to batter.
Add nuts, dates, and cherries, stirring to distribute evenly.
Chill dough 1 hour.
Preheat oven to 400 degrees.
Drop by teaspoonfuls onto lightly greased cookie sheet; top w/ half cherry or walnut/pecan half.
Bake 10-12 minutes until lightly brown.
Cool on wire rack.