I first tasted this salsa at a party and the hostess was gracious enough to give me the recipe. I named the recipe after her. My family requests this recipe every time they come to visit. It is my favorite salsa recipe!
Directions
Mix the Good Seasons Italian dressing according to package, using the vinegar, water and oil.
Mix the cheese, onions, tomatoes, black olives, green chilies and cilantro together.
Pour Good Seasons Italian dressing over all.
Refrigerate until needed.
Serve with Wheat Thins or Tortilla chips.
I use more olives than calls for and just slice or chop up the amount I like.
To get the full recipe, it is best to use a solid block of cheese.
Most Helpful
I personally liked this recipe; however, no one else at my party touched it!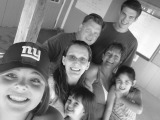 This is the best receipe EVER! You have to make this one!!!! Everyonew LOVES it. Only use fresh cilantro instead of dried.
This is WAY too good; I could not stay away from it!! This has become a family favorite and will be made often!!