Derf2440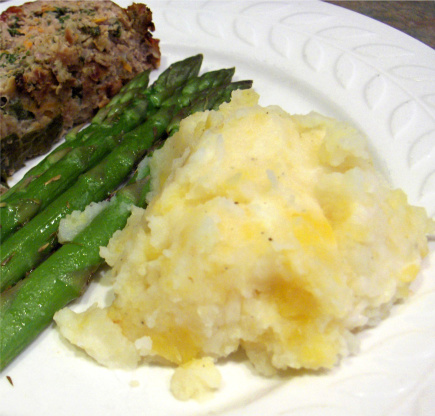 Very good, I have substituted rutabegas for the turnip,many times, white turnip is not always available. My kids loved these as babbies and older,(omit chives/shallots for babbies). As a matter of interest, a rutabega is not a turnip nor is a turnip a rutabega. they are two different veggies often mistaken as the same. A turnip is white with a purple top and rutabega is yellow with a browish purple top, they each have their own flavour. (I believe a "sweede" is a rutabega)

Top Review by Lorac
I love mashed rutabegas and I love mashed potatoes but I never thought of combining them. I pressure cooked the rutabega ( more flavorful that way). The chives complemented the the flavor and added color. The only thing I changed was the amount of butter, something this good deserves lots of butter.
1

lb potato

1

lb turnips or 1 lb rutabaga

1

tablespoon heated butter or 1 tablespoon heated dripping
salt and pepper
Cook the vegetables separtely, drain and then mash them together, adding all the other ingredients.
Season to taste and serve very hot.