Neely's Smoked Sausage and Pepper Sandwiches
Robert_L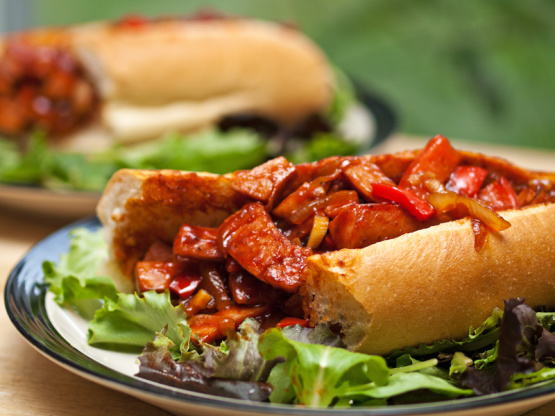 I copied this from foodnetwork.com because I wanted to know the nutritional information. I haven't tried it yet as it's cooking now, but it smells great!

oh you beat me to posting this recipe on zaar! This is a very good sandwich. Once my fiance and I saw this aired on the neelys show, he was asking me every week to make it! I only use two bell peppers instead of the three. I think its plenty. The sauce is delicious! I also added some cheese on my hoagie roll to melt. I used swiss, but provolone would be very good too! This is very saucey and would also be good served over top of rice. So delicious! Its a favorite for us!
Preheat the oven to 350 degrees F.
Heat the olive oil in a large cast iron skillet or Dutch oven over medium heat. Add the sausages and brown on all sides, about 7 to 8 minutes. Remove from skillet and reserve.
Add onions and peppers to the skillet and saute until tender and golden brown, about 6 minutes. Add the garlic and saute until fragrant. Stir in the tomato paste, beer, and BBQ sauce. Cook for a few minutes, then add the sausages back to the pan. Reduce the heat and simmer until the sauce is nice and thick, about 10 minutes.
Slice the bread open, put on sheet tray, and toast in the oven while the sausage is simmering. Remove the bread from the oven and fill with the sausages and peppers.
Transfer to serving dishes and serve.