Neelys' Macaroni and Cheese
Izy Hossack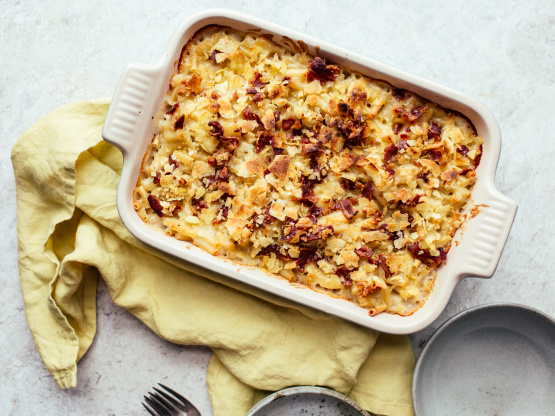 Another delicious recipe from today's episode of Down Home with the Neelys - and since I love baked mac and cheese, I need to try this now too! Looks FAB!!!

I have never cared for baked Macaroni and Cheese, but this recipe really carries a lot of flavor with a creamy/cheesy texture. Other than using elbow macaroni and cutting recipe in half I made as written, and yes making sure that the flour and butter mixture is cooked thru is the key. Thanks Mommy Diva for posting this delicious recipe. Made for Cook-A-Thon 4 Mommy Diva, January 2012! FIGHT LIKE A GIRL!
Heat oven to 350°F
Melt 6 tablespoons butter in a large saucepot over medium heat. Add flour and cook, stirring, for 1 minute. Whisk in the warmed milk and bring to a boil, continue to whisk constantly. The mixture will thicken as the heat increases. Continue to stir while adding the dry mustard, nutmeg, cayenne, salt, pepper, hot sauce and Worcestershire.
Stir in the 3 cups of Cheddar until it melts.
Pour the cheese sauce over the noodles and add to a 3 quart casserole dish.
Sprinkle the chips, bacon and Parmesan on top and bake for 35 minutes.